about us

Rietesel's Boat Covers has been in Business and serving McHenry County and the Chain'O Lakes area since 1939! We are located right on the Fox River and you can boat on up to our nice piers for easy estimates.
We are a 4th generation family owned business. We specialize in custom boat covers from repairs, full covers, cockpit covers, bimini tops, convertible tops, all the way to full enclosures. We provide exceptional service with a commitment to quality work.
Don't take your order any where else! When you need American Quality and craftsmanship, Come to Rietesel's Canvas repair and boat covers.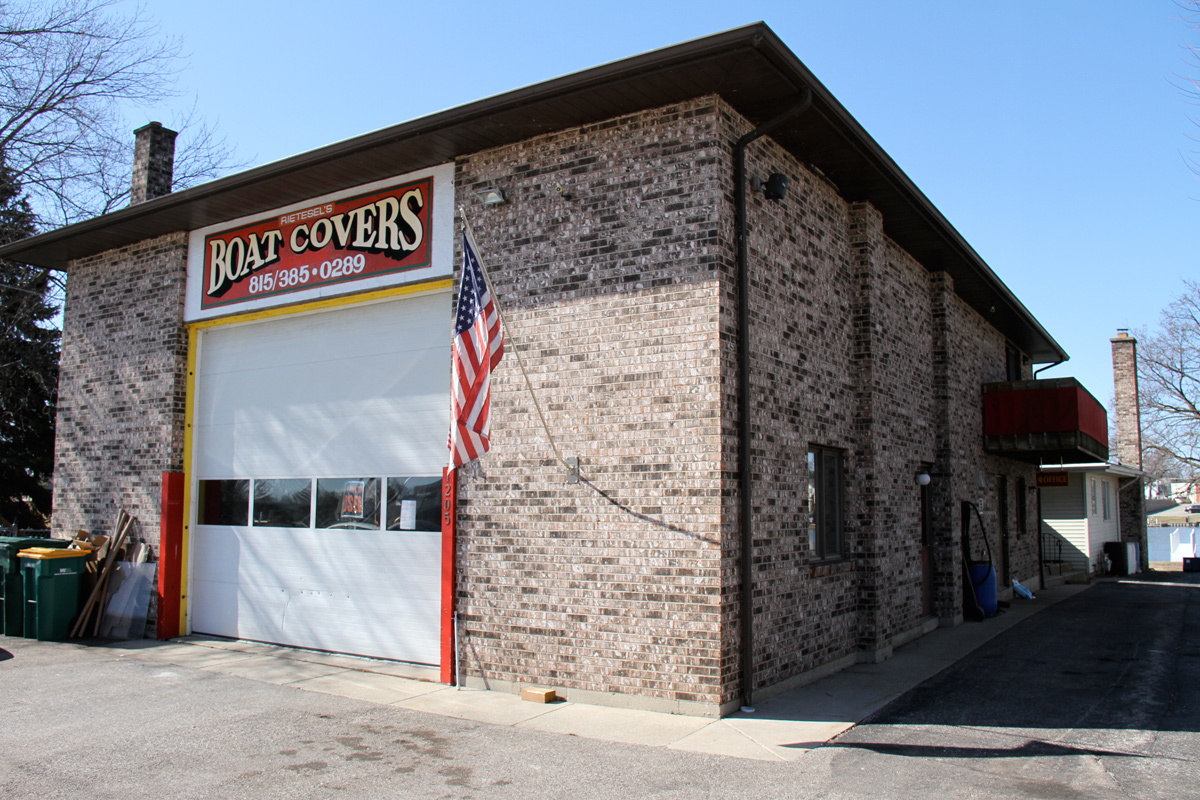 Testimonials
Just picked up my boat from Rietesel's and must say they exceeded my expectations. The care and detail they considered in the arrangement of the cover with appropriate strapping, velcro and reinforcement. I am really impressed. Thanks to Andrea and Howie. You guys are truly experts and care about what you do. Highly recommended!

This guy does amazing work. I've heard he's pricey, but I loved the custom cover he did for our boat. He really listens to what you want, will try anything- if you're not happy, bring it back and he'll make adjustments. He did a beautiful job on our cover. Made suggestions as to what he's seen work well. Very high quality, awesome work. Before he did our new cover, he also patched up the old crappy one for us the year before. He also did a custom cover for my dad that he's pleased with (and he's the kind of guy who's very hard to please). I just got a wakeboard boat and the mastercraft cover sucks. They wrap around the tower and water leaks in and it's just sucky. I'll be taking it to Rietesel's in the fall to see about a custom cover that goes over the tower. He likes to hear what works on your boat and what didn't, so he can make better covers for others. He tells you- the majority of the little things I do I learned from other boaters. You guys are the ones that use the covers, you know what works. I'd highly recommend them.... duh- obviously with that glowing review!

I researched purchasing front, side, and rear canvas for my Bayliner Ciera 2855 through numerous companies. After some time, I spoke with Andrea and then Byron at Rietesel's Boat Covers. I am so glad I did. This family and their work ethic and final product are incredible. They not only provide excellent quality but add in "at no extra cost" a feeling that your family and as family...will do whatever they can to ensure your satisfaction. I added the top canvas! If you're looking for a great job, a fair price, and a company that provides integrity, professionalism, and caring to their customers, look no further than Rietesel's Boat Covers! I did and am completely satisfied! Thank you Byron, Andrea and team for a fantastic job! Bill Hominick Concubine 😀

After reading the previous 3 rave reviews of Rietesel's, I was pretty sure I'd be taking my boat to them, but since one of them said their price might be a bit high, I first went to a nearby canvas shop for comparison. That guy quoted a higher price than Rietesel's ultimately gave me, plus he made it pretty clear he didn't really like being interrupted from the paperwork he was doing to give me a quote, so I was happy to get out of his shop. And Byron and Andrea were great to work with--friendly, cheerful and happy to tackle something a bit out of the ordinary. I wanted a larger than normal cover so my sailboard could also be stored in the boat under it and they seemed eager to figure out how best to accomplish that. They had it ready sooner than they'd promised and it turned out great! Oh, and their price included sales tax already, so I think their price was very reasonable. If you've got a canvas project, I'm confident you'll be happy you had Rietesel's do it. Oh, and Andrea's got a great smile!

Another rave review for Rietsels. THey did a fantastic job making a trailerable storage cover for my boat. The price was fair, the work is top notch, the creativity is superb, and they were very timely. Top materials as well. Absolutely EVERY protrusion is reinforced, in some cases double-reinforced. The cover fits so tightly you could do a drum solo on it.

Another highly satisfied customer here... I had an OLD two piece cover, a bow piece and a cockpit piece. I wanted to change to a one piece whole boat cover to better keep the rain out. Reitsel's quality and service were superb! They spent some time asking questions, looking to find what I wanted and what would work best for me. They told me many times "if there's anything you're not happy with, bring it back and we'll make it perfect". They removed unused bow cover snaps and replaced them with stainless screws and trim washers. They put extra reinforcement everywhere it was needed. They even included handy pull loops at the corners to make it even easier to snap the last few snaps, and bungee loops for the cleats and ski hook to keep everything tight. Since this cover was first installed I haven't had a drop of rain in the boat, even through the strong storms. As for pricing, I called three or four other places to compare, and not only was Rietsel's under or within a few bucks of every other price I was quoted, they were also by far the nicest, most polite and pleasant to deal with on the phone and in person. I would not hesitate for one second to strongly recommend them to my family and friends. You will NOT be disappointed - even if something isn't exactly how you want it, they will happily fix it. Two big thumbs up!

VERY VERY HAPPY. I had a full one piece cover done for my 18' open bow. My experinece was great from my first phone call to hooking the boat back up with the new cover. Andrea provided me with great information when I was first looking into the cover. Byron took the time to go over what I wanted done and also had great recomendations. The cover turned out FANTASTIC. He took the time to go over exactly what he did and why he did it when I picked the boat up. I couldn't be more satisfied with the quality of the work and the customer service I received. Worth every penny.

Dropped off our top this afternoon for 3 tears to be repaired. Didn't expect the call an hour and a half later saying they fixed the rips, replaced 8 snaps and oiled and repressed the rest. Wow. Couldn't believe how fast they got it done. Excellent service! I would highly recomend them to anyone I meet. Oh and a super cheap price too.

I needed a good quality trailering cover at a reasonable price. After doing A LOT of research I decided on Reitesels. I dropped off my boat on a Saturday. Andrea & Byron were very thorough asking me questions of what I expected of the cover, how I was going to use it, etc. They explained exactly what they would do & how much it was going to cost. They called the following Tuesday (two working days later) to tell me the cover is done, just as descirbed, at the agreed upon price. I couldn't be happier. The quality, fit & attention to detail far exceeded my expectations. Byron explained that if there is ever an issue later on, no matter how long down the road, bring it in & they will take care of it. They truly understand customer service. If you want a top quality boat cover that the maker will stand behind, at a reasonable price, Look no further than Reitesel's.

I can't recommend Byron and Andrea enough. I just bought a new boat to me that came with an internet purchased fitted cover. it was made to fasten to the trailer and would never work on my lift. it also "fit", but not very well. byron added snaps to the existing cover and boat, added a new skirt, incorporated an idea I had to cover the swim platform and made it fit as well as new covers he has made me in the past. all of the above done in less than twenty four hours for a very fair price. A huge thank you to Byron and Andrea for helping me get the new boat on the lift a week earlier than planned. Great craftsmanship and customer service!